Lebanon Internal Medicine's Laboratory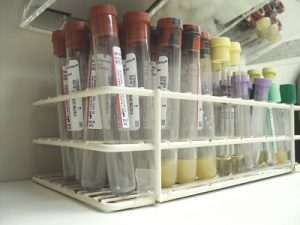 LIMA laboratory is a fully licensed and accredited independent laboratory, staffed by highly trained professionals.   The laboratory performs high complexity testing with state of the art equipment and complies with all the required federal and state regulations to ensure quality, accuracy and confidentiality of the results.  In addition to our primary site, we offer two satellite phlebotomy office locations.
The majority of the laboratory tests are performed at LIMA and are routinely sent to your physician the same day.  We also utilize a reference laboratory for tests that cannot be performed onsite.
Recognized for quality laboratory services
LIMA has met all criteria for Laboratory Accreditation by COLA, a national healthcare accreditation organization. Accreditation is given only to laboratories that apply rigid standards of quality in day-to-day operations, demonstrate continued accuracy in the performance of proficiency testing, and pass a rigorous on-site laboratory survey.
LIMA has earned COLA accreditation as a result of a long-term commitment to provide quality service to our patients.
COLA is a nonprofit, physician-directed organization promoting quality and excellence in medicine and patient care through programs of voluntary education, achievement, and accreditation.
COLA is approved by the federal government and sponsored by the American Academy of Family Physicians, the American Medical Association, and the American College of Physicians-American Society of Internal Medicine.
Hours of Service
LIMA Laboratory: Monday – Friday  6:30am – 4:00pm
– No appointments are needed for drawing blood for lab tests
Hershey Office : Monday & Thursday 8:00am – 3:00pm | Tuesday & Wednesday 8:00am – 2:30pm
– By Appointment only
Lititz Office: Tuesday  9:00am – 12:30pm
– By Appointment only
We will bill directly to your insurance company
Accurate and timely lab results
To contact the Lab, please call (717) 273-6706 ext 1144
The LIMA laboratory may be small in size but we are BIG in quality service.
Patient Resources